Link up time! Several #StrangeButGood-ies for my WIAW, plus some recipes!
First off…shameless self plug. Yup. #SorryNotSorry.
Who doesn't love cookies and cream? Satisfy your cravings while supporting muscle growth! Casein makes these truffles the perfect late night treat… without the guilt!
This is a recipe I entered in a competition at proteinpow.com (read details here).
If you follow this link and click my photo, it will take you to the recipe, and you'll help we win by voting!
Thanks, and I hope you enjoy!
Now that that is out of the way…On to the rest of my WIAW eats!
Breakfast: This recipe from Luice topped with a runny egg! Yum!
My hubby commented on my weird food …how is an omelette weird?! Breakfast #StrangeButGood
(Not pictured: coffee). I enjoy mine with cinnamon brewed in the grounds (something one of my former co-workers shared with me), plus 1 tsp coconut oil, splenda, and vanilla stevia drops. Slightly bulletproof?
Post-Workout: (Not pictured) I made some of Lindsay's PB Coconut Trail Mix Bites in bar form. My favorite flavor!
Morning Snack: New yogurt flavor I am loving! Mango Lemonade! It is a limited edition I found, but man do I hope they keep it! Topped it with 2 TBSP Ezekiel Cinnamon Raisin Cereal, 3 Cinnamon Roast, and 3 Vanilla Roast almonds!
I also love Toasted Coconut when I can find them. Have you tried any of them?
Lunch: Apple and Gouda Cheese Chicken Sausage, sweet potato, and green beans topped with a new find! Blue Cheese Mustard! It was so yum! I mixed it with nutritional yeast. Condiment #StrangeButGood.
Afternoon Snack: this recipe for protein pumpkin cinnamon rolls, but I subbed butternut squash and made a triple batch. Hidden veggie #StrangeButGood!
Next time I'll try it as instructed …with pumpkin. It was a little dry with the squash. I was just using up my leftovers.
Dinner: Spinach Salad with Tuna, snap peas, broccoli slaw, almonds, and a boiled egg. Home-made salad dressing (another condiment #StrangeButGood). It's my new go-to salad dressing.
Italian Herb and Honey Goat Cheese Dressing (1 serving):
Night-Time Snack: The above truffles!
Also not pictured is the ridiculous amount of water I consume.
Link up time!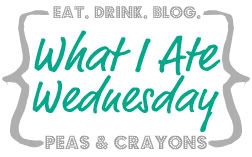 Thanks to Jenn for hosting WIAW!
Thanks to Laura for hosting #StrangeButGood!
Thanks to Kierston for hosting #RecipeFriday!
| Kaci